Imperator / Berengaria
Christened by the Kaiser himself, Imperator was launched for Hamburg America Line (Hapag) on 23 May 1912. Built by Vulcan, Stettin, she was the largest ship in the world at that time: 52,000 tons. Imperator made her maiden voyage from Cuxhaven to New York on 20 June 1913.
Top-heavy and plagued by instability in her trials and early crossings, Imperator underwent alterations after a September 1913 fire at Hoboken, N.J. left her with a noticeable list, a result of her inherent instability and the water pumped on board to extinguish the flames. These alterations had the desired effect; her stability was never again a problem.
When World War I broke out, Imperator was laid up at Hamburg. After the war she was turned over to the United States as war reparation and, as U.S.S. Imperator, repatriated American troops during the summer of 1919.
When the U.S. took over Hapag's Vaterland (Leviathan), Imperator was transferred to the British Shipping Controller in 1920 and chartered to Cunard for service out of Liverpool, still as Imperator. Cunard and White Star then jointly purchased Imperator and her yet-unfinished sister Bismarck; Cunard took control of Imperator and placed her on the Southampton berth in June 1920. The joint ownership of the two ships lasted until 1932, when it was terminated at Cunard's request.
In August 1921, Cunard renamed her Berengaria and soon after had her converted from coal to oil. Berengaria remained on Cunard's Southampton service throughout the 1920's and into the Depression. Beginning in 1936, she suffered a number of fires; the last one, on 2-3 March 1938 in New York, caused American authorities to revoke her certificate to carry passengers. She returned to Southampton without passengers and never sailed again.
Berengaria was retired on 21 March 1938 and sold for breaking up, which was not completed until 1946 due to World War II.
Sources: Haws' Merchant Fleets; Fricker's Beken of Cowes Ocean Liners; Braynard's Classic Ocean Liners, Vol. 1; Hansen's Passenger Liners from Germany, 1816-1990, de Kerbrech and Williams' Cunard White Star Liners of the 1930s; The New York Times, 25 August 1932.
As Imperator
---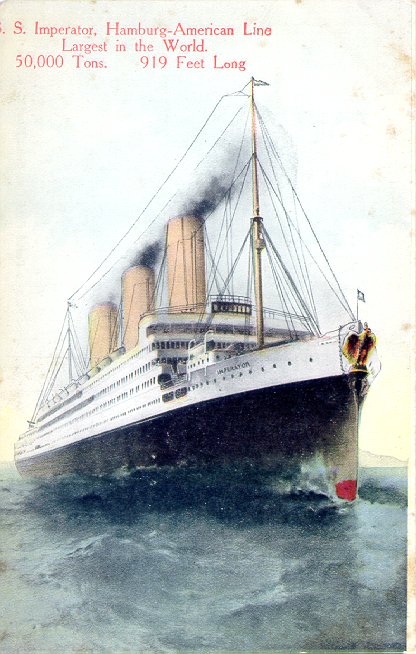 ---
As Berengaria