R.M.S. Campania
Campania was built for Cunard by Fairfield Co., Ltd., of Glasgow, and was launched on 8 September 1892. Her maiden voyage to New York began at Liverpool on 22 April 1893; a month later, her second roundtrip to New York resulted in Campania's first Blue Riband, and her only eastbound record. Campania would twice set westbound records -- in June 1893 and August 1894.
Campania, converted into an armed merchant cruiser, represented Cunard at Queen Victoria's Diamond Jubilee Review at Spithead in 1897, and remained on Cunard's Liverpool-New York service until she was retired in April 1914.
After being chartered briefly to Anchor Line, she was temporarily recalled from August to October 1914 while Aquitania served as a troop ship. Sold to shipbreakers in November, she was quickly re-sold to the Admiralty and converted into an armed merchant cruiser with a flight deck and hangar, capable of handling airplanes and observation balloons.
She served as a scouting aide to the Fleet until November 1918, when she sank after colliding with HMS Revenge in the Firth of Forth.
Sources: Haws' Merchant Fleets; Bonsor's North Atlantic Seaway.
CIGARETTE CARD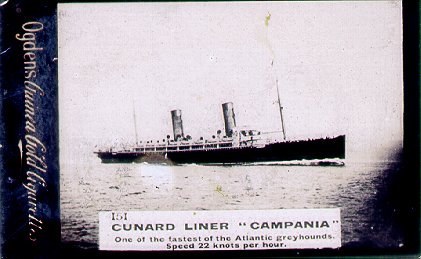 ---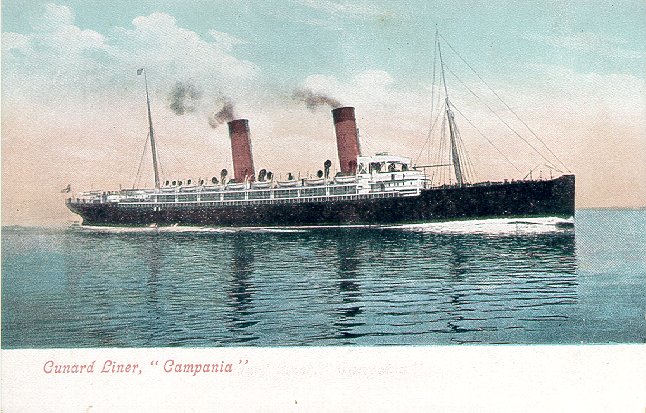 Campania Sinks