Kaiserin Auguste Victoria / Empress of Scotland (I)
Built by A.G. Vulcan of Stettin, Kaiserin Auguste Victoria was originally named Europa but was renamed when she was launched by her namesake in August 1905. The largest ship in the world until the arrival of Cunard's Lusitania, Kaiserin Auguste Victoria made her maiden voyage from Hamburg to New York on 10 May 1906.
Laid up in Hamburg during World War I, the ship was ceded to Great Britain as a war reparation and was initially chartered to the United States Shipping Board and used to repatriate American soldiers during 1920. Still bearing her original name, she then made ten Liverpool-New York roundtrips for Cunard between February 1920 and January 1921.
In May 1921, Kaiserin Auguste Victoria was sold to Canadian Pacific and was refitted by Vulcan at Hamburg for conversion to oil fuel and for service to Canada. Renamed Empress of Scotland I, she entered Canadian Pacific service with a Southampton to New York trip which began on 22 January, 1922 and was followed immediately by a Mediterranean cruise. She then entered Canadian Pacific's regular Hamburg to Québec service along with Empress of France (I).
After 71 Canadian Pacific roundtrips, Empress of Scotland was laid up at Southend in October 1930 and was sold for breaking up in December of that year. She burned at her berth at the shipbreaker's on 10 December. Raised in May 1931, she broke in two while being moved in June and was completely demolished by October 1931.
Sources: Bonsor's North Atlantic Seaway; Haws' Merchant Fleets.
Cigarette Card
---
Postcards
---
As Kaiserin Auguste Victoria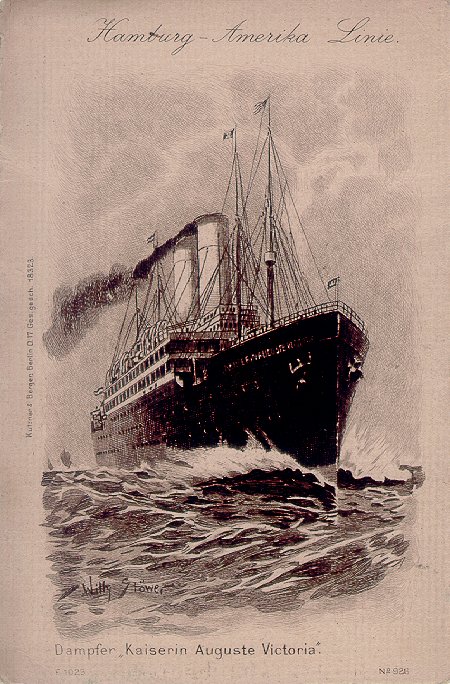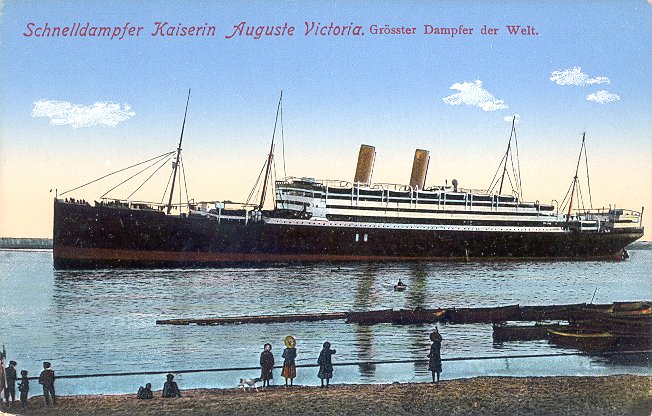 As Empress of Scotland (I)