Lapland
Built by Harland & Wolff, Belfast, Lapland was launched for Red Star in 1908, and made her maiden voyage from Antwerp to New York on 10 April 1909. She was at that time Red Star's largest ship and the largest ship to fly the Belgian flag.

In April 1912, Lapland made headlines when she brought home 167 crew members who had survived Titanic's sinking. She would later become even more intimately involved with the White Star Line: In 1914, after Antwerp was occupied by the German army, Lapland was placed in White Star's service, on the Liverpool-New York route, with Zeeland and Vaderland.

Lapland hit a mine in Liverpool Bay in April 1917, but was able to return to port safely. Two months later she was requisitioned as a troop ship and was fitted out to accommodate 3,000 soldiers. At the war's end in November 1918, Lapland was again placed on White Star's Liverpool-New York route until White Star's own fleet was returned to service. She still retained her Red Star name, but was now painted in White Star colors.

Lapland made her last White Star sailing in November 1919. She then returned to Red Star and resumed her sailings from Antwerp on 3 January 1920. From 1926, Lapland was used mainly for Mediterranean cruising. She made her last Atlantic crossing in 1932 and was scrapped in Japan in 1933.

Sources: Haws' Merchant Fleets; Bonsor's North Atlantic Seaway; Kludas' Great Passenger Ships of the World.
Cigarette Card
---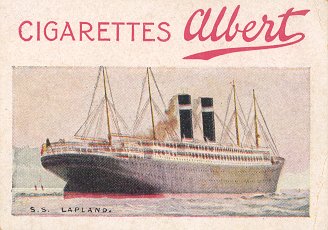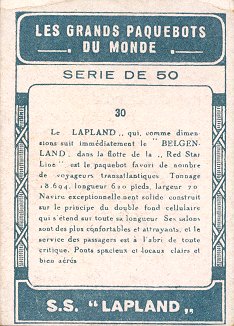 Postcards
---