R.M.S. Laurentic (I)
Laid down at Harland and Wolff, Belfast, as Dominion Line's Alberta, this ship was transferred to White Star during construction and was launched in 1908 as Laurentic. Laurentic and her sister Megantic were used by their owner and their builder as an experiment. Although otherwise identical, they were outfitted with different propulsion systems. Megantic had a conventional arrangement of twin screws powered by quadruple expansion engines, while Laurentic was given a novel triple screw system, with triple expansion engines powering the wing propellers and exhausting into a low pressure turbine linked to the center propeller. Laurentic's arrangement proved to be both faster and more economical. As a result, that system was chosen for use in White Star's Olympic-class liners.
Laurentic served on only one route, Liverpool-Canada, during her White Star career, which began with a Liverpool-Montréal voyage on 29 April 1909. (Her running mates were Megantic and Dominion Line's Canada and Dominion. Together they provided a weekly service to Montréal in summer and Halifax or, occasionally, Portland in winter.) In Montréal when World War I began, Laurentic was immediately commissioned as a troop transport for the Canadian Expeditionary Force. After conversion to armed merchant cruiser service in 1915, she sank off the northern coast of Ireland on 25 January 1917, less than an hour after striking two mines. Laurentic's sinking accounted for the largest loss of life ever in a mining: only 121 of the 475 aboard survived.
But the story of Laurentic doesn't end there. Many sunken ships are the subject of rumors about treasure being on board, but Laurentic is one of the relatively few cases where there actually was treasure. In addition to her passengers and crew, the ship was carrying about 3,200 bars of gold worth £5 million ($25 million). In what Anderson describes as "[o]ne of the world's most amazing salvage operations," Royal Navy divers made some 5,000 dives to the wreck between 1917 and 1924. At a cost of only £128,000 ($640,000), they succeeded in recovering all but about 25 of the bars. The Royal Navy returned to the site in 1952 to recover the rest.
Sources: Anderson's White Star; Williams' Wartime Disasters at Sea; Haws' Merchant Fleets; Bonsor's North Atlantic Seaway; Kludas' Great Passenger Ships of the World.
Arrival Notice
---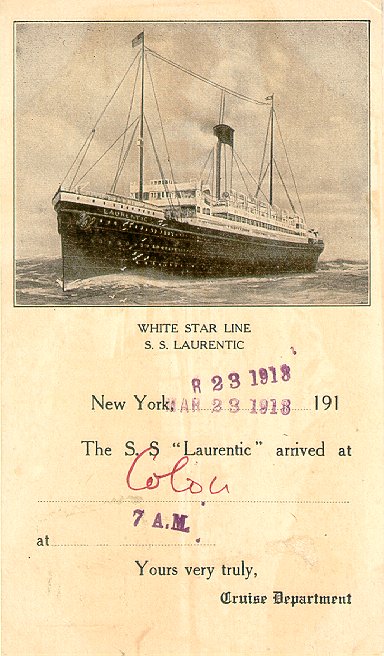 ---