Lusitania
Lusitania was built by John Brown & Co. of Clydebank and was launched in 1906. The first British four-stacker, Lusitania was also the world's first quadruple screw steamer and the first ship to exceed 30,000 tons. Substantial modifications were made to the Liverpool Landing Stage to accommodate her great size. Lusitania made her maiden voyage from Liverpool to New York on 7 September 1907. She was at that time the largest ship in the world, a distinction she would hold until her sister Mauretania entered service two months later.
Holder of both Blue Ribands, Lusitania set westbound crossing records in October 1907, July 1908, August 1908 and September 1909 and an eastbound record in October 1907.
At sea when World War I broke out, Lusitania arrived home safely, and unlike Mauretania was kept in her regular service during the war, making monthly sailings between Liverpool and New York. However, on 7 May 1915, while heading east off the Old Head of Kinsale, Ireland (see the card, below), Lusitania was torpedoed without warning by U-20 and sank within 18 minutes. (Two explosions rocked the ship. The first was clearly caused by a torpedo from U-20. The cause of the second explosion has never been definitively determined and remains the source of much controversy.)
Of those on board, 761 were rescued, while 1,198 perished. Lusitania's sinking, and the sinking of White Star's Arabic a few months later, vividly demonstrated that prior concepts of the rules of war no longer prevailed, and that unarmed merchant ships were no longer safe from attack.
Sources: Haws' Merchant Fleets; Bonsor's North Atlantic Seaway; Williams' Wartime Disasters at Sea.
Log Extract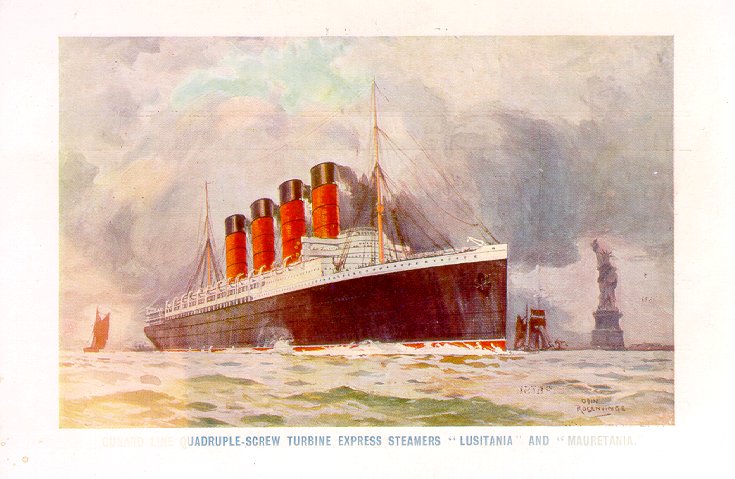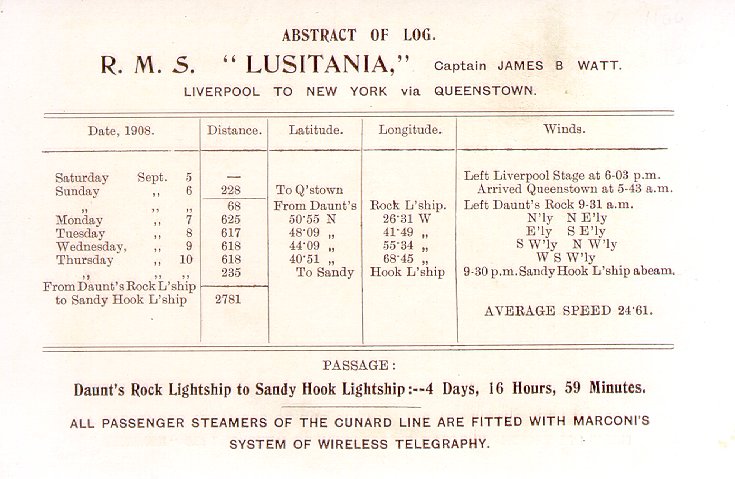 ---
Post Cards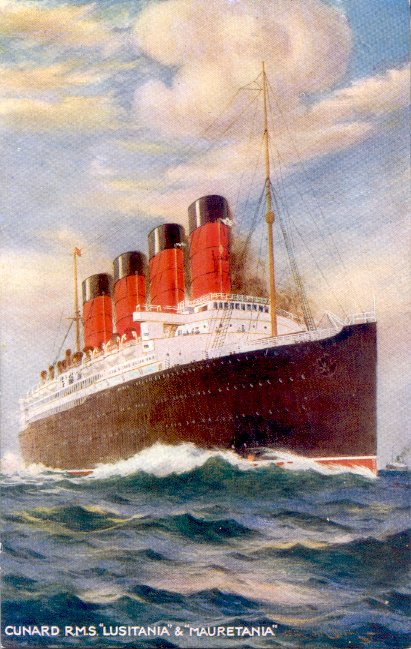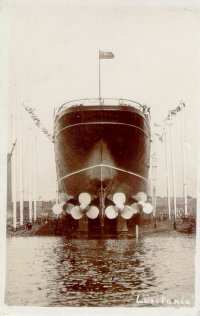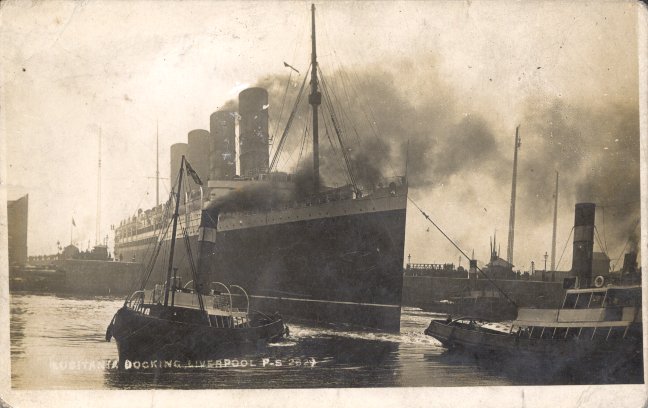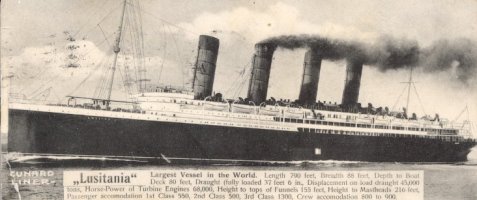 ---
Fold-out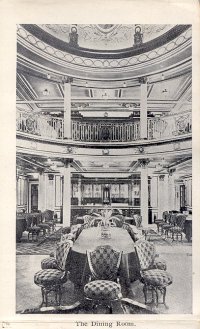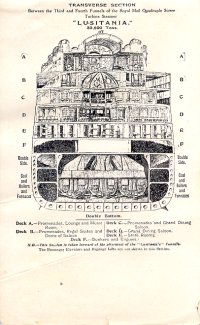 ---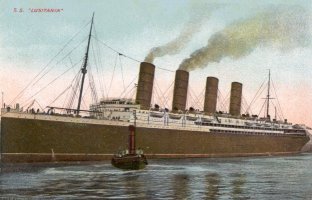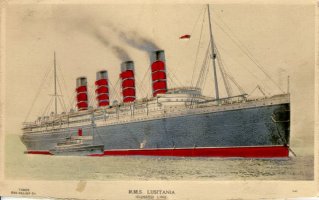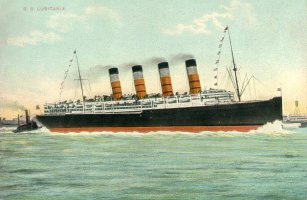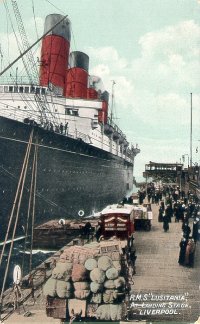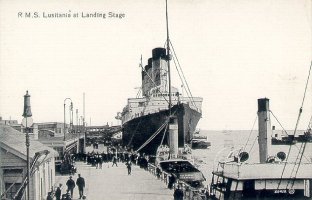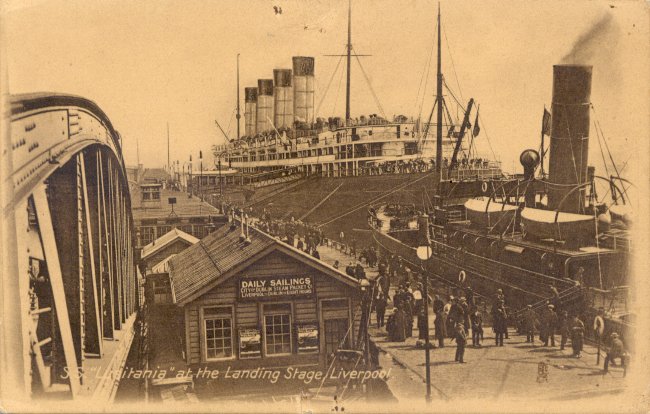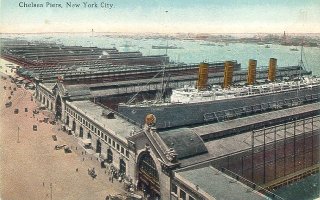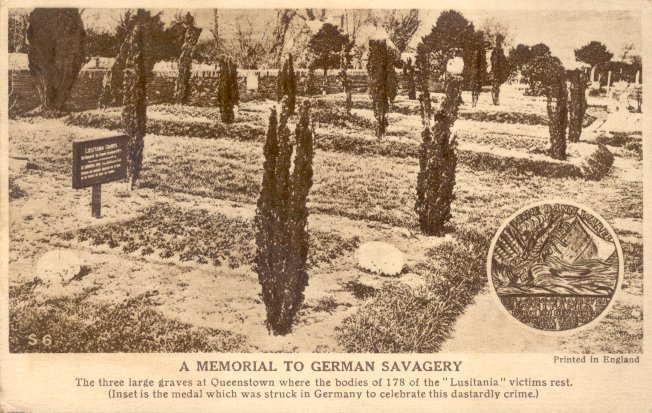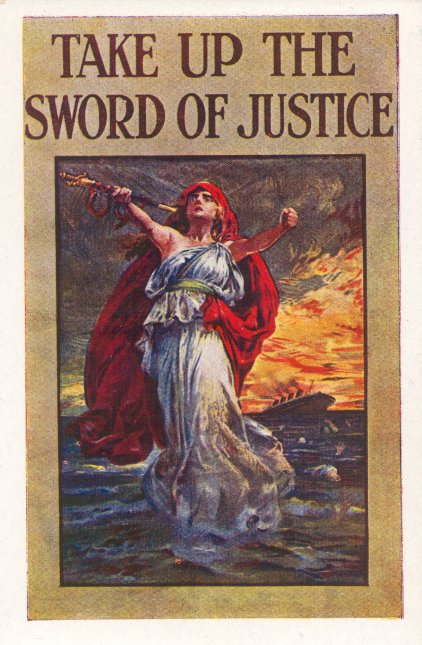 ---
Stereoview