Minnekahda
Although ordered from Harland & Wolff, Belfast, in 1913, Minnekahda was not launched until March 1917, the delay caused by other work deemed more vital to Britain's war effort. Upon completion, she entered service as a troopship, serving in that capacity until January 1920. Still not yet fitted out for passenger service, Minnekahda finally made her first commercial voyage for her owner, the Atlantic Transport Line, on 27 March 1920, from London to New York.
She remained on that service until October, also making one New York-Hamburg-London-New York roundtrip on charter to the American Line in July. She was then refitted with accommodations for 2,150 third-class passengers, and made her first sailing as a passenger liner on 31 March 1921, again on charter to the American Line, a New York-Hamburg-Naples-New York trip. Then, from May 1921 until January 1925, she remained in the American Line's service, on a New York-Hamburg route.
On 24 March 1925, Minnekahda finally made her first passenger sailing for ATL, from London to New York, after being refitted to a tourist/third cabin configuration. She made her final voyage on that route in September 1931, and was then laid up at New York. Four and a half years later, on 14 April 1936, she sailed from New York to be broken up at Dalmur, Scotland.
Sources: Bonsor's North Atlantic Seaway; Haws' Merchant Fleets in Profile.
Postcard
---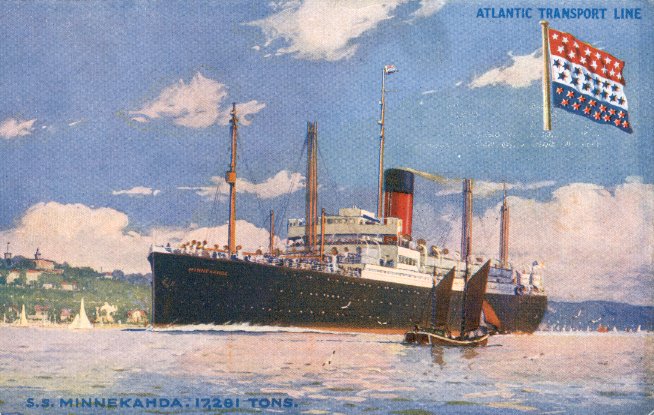 Passenger List
From New York - October 17, 1925
Tourist Third Cabin
---