Windsor Castle
Windsor Castle, the last of the four-stacked ocean liners to be built, was launched by the Prince of Wales on 9 March 1921. Built by John Brown & Co. of Clydebank, she made her maiden voyage, Southampton to Cape Town, in April 1922.
Planned and designed before World War I, she was in many respects outdated even before she entered service. But in 1937, she was substantially rebuilt at Harland & Wolff, Belfast. Like Arundel Castle, she emerged with a redesigned hull, new engines and boilers, and only two funnels. Returning to her customary service, Windsor Castle was now capable of 21 knots, as opposed to her former 17 knot maximum.
The ship was taken over as a troop carrier in 1939. She survived a 4 November 1940 attack during which a 500 pound (227 kg) bomb, dropped from a German plane landed, unexploded, in her first class smoking room. The bomb was removed the next day, after the ship had docked at Greenock.
Early in the morning of 23 March 1943, she was again the victim of an airborne attack, and this one sent her to the bottom. A torpedo launched from a bomber less than 100 yards (91 m) away scored a direct hit. Late that afternoon Windsor Castle sank, stern first, about 110 nautical miles northwest of Algiers. Although there were nearly 3,000 people on board, there was only 1 fatality.
Sources: Williams' Wartime Disasters at Sea; Shaum and Flayhart's Majesty at Sea; Haws' Merchant Fleets.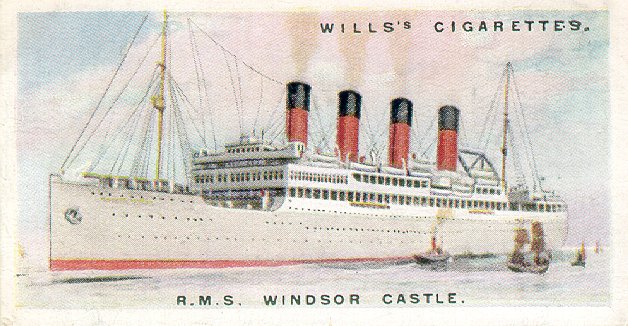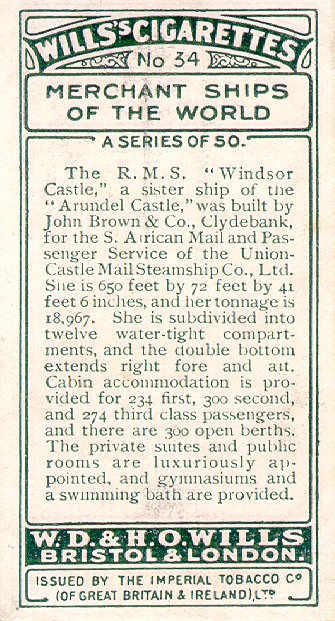 ---